Enchant & Educate!
Studies have shown that the first five years of life are a time of great impact on a child's developing mind. This important window of opportunity cannot be recaptured.
Pocket Snails
® products have been specifically created to provide a
Soaring Start for
Little Minds
™ by helping to enhance and enrich intellectual growth during this important developmental window. Pocket Snails will enchant and educate your child with its innovative approach to educational entertainment. Carefully designed to appeal to the growing interests, skills and humor of your 2 to 5 year old, this innovative series is a positive and beneficial step towards realizing the optimum in their intellectual development.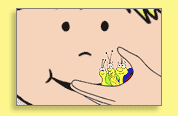 First in the
multi-award winning
series is
Pocket Snails Letter Adventure
, which will introduce and teach your child the letters of the alphabet, as it captivates them with its magical charm. Pocket Snails Letter Adventure is available on VHS, DVD (complete with DVD extras), and as a wonderfully upbeat music CD for use in the home or out and about in the car. Following the success of Letter Adventure,
Pocket Snails Aquaphonic Adventure
focuses on phonics where the snails travel over and under the water encountering ocean objects on an exciting aquatic-mission that covers the pre-reading skills essential to preschool success.

Our newest title,
Pocket Snails Potty Adventure
, tackles the sometimes tricky subject of potty training from a whole new perspective! With its multi-faceted approach that uses a fun storyline, colorful animation, sing-along songs and the included
Potty Steps Map
that viewers can follow during the program - and then consult for themselves come potty time - this wonderful new DVD provides an engaging and effective potty training tool for youngsters everywhere.
To learn more about our products, please click
here
.